Updates and News
2019 AABCA Award - Stephen Taylor
(25 Nov 2019)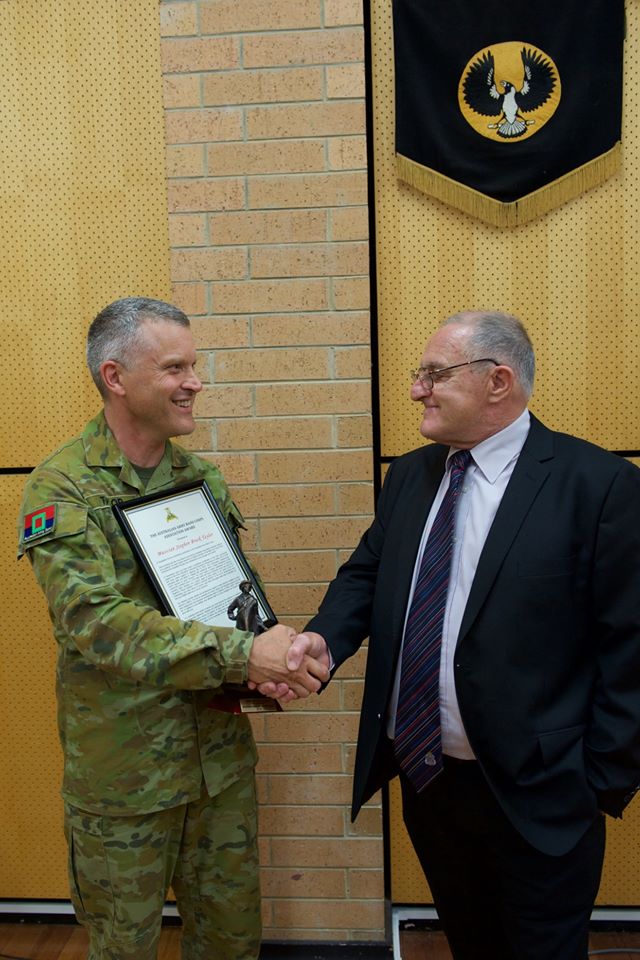 The South Australian State Representative and Vice President of the Australian Army Band Corps Association, Dave Oakley presented Musician Stephen Taylor with the Australian Army Band Corps Association Award.
The award recognises Musician Taylor's unwavering dedication to duty and his involvement in Australian Army Band support to Army Aboriginal Community Assistance Programmes held in both Yalata and Jigalong, his involvement in community outreach tours and temporary duty support to the Band of the 1st Regiment, Royal Australian Artillery's Exercise BANDIT.
---
Vale - 342626 James 'Jim' Robert Harper, BEM (Update)
(27 Nov 2019)

Association member Julie Leder advised that our good friend and colleague Jim Harper sadly passed away on Sunday, 10 November 2019 after a long illness.

Jim enlisted 2 August 1953, posted to Southern Command Band in July 1955, saw service in Malaya/Borneo 1959 - 1961, Vietnam 1965 - 1966 with 1RAR, Armoured Corps Band 1966 - 1967, Singapore 1968 - 1969 as the Band SGT. He also served in North Queensland Army Band in 1972 followed by a posting to the Band Store at Broadmeadows in 1974, the returned to 3MD before discharge.

Following his discharge from the Army on 15 December 1980 Jim joined the Victoria Police Band and served as in the Reserves as the RAA Bandmaster.

Funeral details:  The funeral for the late Jim Haper was held on Thursday 21 November 2019 at Bunurong Memorial Gardens, 790 Frankston/Dandenong Road, South Dandenong, Vic, 3175

RIP... Your duty done!
---
2019 AABC Reunion (Ballarat) 

(25 July 2019)
The dates for the AABC Associations 2019 Reunion being held in Ballarat, Victoria this year are as follows: Fri 25 Oct through to Sun 27 Oct 2019, with the first activitity being the Golf, playing for the Association Golf Trophy on Friday morning at the Midland's Golf Club commencing at 9.00am  along and in conjuction with a Lawn Bowls competition at the Midlands-Ballarat RSL Sports and Services Club starting at 10.00am.  
There has been a number enquiries from members as to this years reunion with the dates and the activities that will be conducted throughout the weekend.  This information  has now been published and is posted on the Website with the Registration Form (see above).  The Registration Form will also be published in the AABC Corps Birthday Edition of the Newsletter due out shortly with all the finals details confirmed and costings listed.  Note the special price for an 'all in package'!

It has been suggested by the Organising Committee that you book your accommodation early to secure a room or a caravan site, etc...  They have suggested you stay at the historic Craig's Royal Hotel where the majority of activities, including the AGM, Meet and Greet and the Reunion Dinner are being held.  This hotel is offering a discount for those mentioning the AABC Association Reunion.  Contact number: 03 5331 1377 (ask for functions). Otherwise 'google' Ballarat Tourist Centre for more accommodation options. 
The Organising  Committee look forward to see you along with many others who make the trip to Ballarat for this year's reunion.  Any further enquiries please contact Chris Stock on: 0419 897 179
---
Newsletter / Database - Personal Address Details - Reminder
(20 Oct 2018)
Association Database Manager Dave Oakley reminds the membership that despite requesting association members to confirm their Email addresses he says he still had many emails and Newsletters returned.  Those who have changed their address, Email details or your phone/mobile number please contact him to advise him of the change/s.  Dave says if you are unsure if he has all your correct details he is happy to check the details he has with you. 
Dave's Email address is: sodaveo@kern.com.au or phone: 0438 951 738.
---
Noteworthy - The Association's Newsletter
(1 Nov 2017)
Due to the rising costs to produce the Associations Newsletter it was decided at the 2016 AGM that the association would send out the next and consequent Newsletters (Anzac & Corps Birthday editions) electronically (via Email) to our members.  We acknowledge that not everyone of our members have access to Email or doesn't even have a computer, and those members will be sent the Newsletter by mail. 

Dave Oakley, our Database Manager has forwarded a 'test' Email to those members who have provided an Email address together with their details to confirm that the members Email address is correct.  Those members without an Email address will be sent the Newsletter by mail.
 Thank you for your cooperation and understanding.
---
Sick Parade Page
The Association website's 'Sick Parade' link lists members who are sick , about to undergo surgery or who are undergoing rehabitation.  Some of these posts are well out of date, so unless the person named or the member who advised us of the members condition has changed they will be deleted.  If you're one of the members that are listed in the page or you were the one that notified us, please advise the Secretary of your updated condition or situation.  Thank you.

---
Noteworthy News
Submissions are due
now for next edition.
Forward to Newsletter
Editor
October-1-2018
---
Changes to Details
If members change any of their personal or contact details, please notify the Secretary (knoon@netspace.net.au) of the change/s ASAP. Failure to do so will result in those members not receiving newsletters / updates. We need your details so we can contact you.
Read more...
---
---
I&KMusic
I & K Music - Selling Quality Brass and Woodwind Instruments
Read more...