Updates and News


Noteworthy News Newsletter Archive
(26 Sep 2020)
Financial Association members can now access past editions of Noteworthy News on the Association website.
To gain access contact the Association Web Manager, Stu Colhoun, with your name and email address - Contact Web Manager
Once access is granted you will receive an email with a username, password and a link to the secure page.
Once membership fees are paid by 1 July of each year access will be for 12 months or the balance of the financial year from when the fees are paid.
---
Vale - Lionel Green
(9 Sep 2020)
Member Neville Lloyd recently contacted the Association to advise that he had heard from Ken Gilbert, another Association member, who passed on the news his good friend and colleague Lionel Green had unexpectedly passed away on Sunday 30 August 2020. Ken had advised that Lionel's wife Lorraine rang him to tell him of Lionel's passing. 
Lionel's funeral service was held at the Sapphire Coast Funeral Chapel at 11.00am on Monday 21 September 2020.
On behalf of the President and members of the AABC Association we send our heartfelt condolences to Lorraine and the extended family.
RIP Lionel... Your duty done
---
AABC Association Model Rules - Voting
(10 Aug 2020)
Hello AABC Association Members,
Very shortly there will be a requirement for you to vote on a new set of Model Rules for the AABCA.
Only financial members will be able to vote as will also be the case for the 'on-line' AGM to be held in October. Currently there are many of you who are not financial.
This email is a prompt in case it has slipped your mind to please pay your subs (on-line preferred) so that we can be assured of a true representation of the membership when voting on forthcoming important AABCA legislation.
Take care all,
Warmest Regards,
Gordon Lambie, OAM, CSM
President
---
Sick Parade - Kevin Furness
(31 July 2020)
Jenny Furness, wife of Kevin has advised that Kevin has had surgery for another Aortic Aneurysm last Monday (27 July) and while he's slowly recovering, Jenny says the surgeons and doctors are pleased with how he is doing.  Jenny advises it's better to text him for now as he's pretty exhausted from talking and his voice is a bit husky.
On behalf of the President and members of the Association and all who know Kevin we pass on our best wishes for a complete recovery and the rehabilitation following.
---
Vale - Dave Walker (Update)
(6 July 2020)
The association has received information regarding the recent passing of  WO2 Dave Walker, Retd, a former member of AAB-Newcastle who passed away on Mon 1 Jun 2020.
Dave was enlisted in the Army Reserve in June 1962. 
Period of Service - 50 years
Completed all of his ARES Service in Newcastle
Discharge date: 23 June 2012
Honours and Awards....
Awarded Reserve Force Medal - 3 Aug 2012
Seventh Clasp to the Reserve Force Medal
Three Federation Stars
National Medal  - Jun 77
Australian Defence Medal
In January 2018 Dave was awarded the Medal of the Order of Australia for his service to Brass Bands and  the community.  It was awarded on the cuivilian side, not military. 

The family warmly invite you to Celebration of Dave's life to be held in 'The Chape' at Wallsend this Thursday  9 July 2020 at 12.00noon

RIP... Your duty done


Secretary
---
Sick Parade - John McGregor, OAM
(3 July 2020)
John McGregor contacted the AABC Association today to advise that he will be admitted to hospital on Mon 6 Jul 2020 to undergo a serious procedure. 
He said if the operation is sucessful he will be undergoing rehabilitation that prevents him from receiving calls from well wishers.

No other details are known at this time, but will be posted when we receive word of his condition.
On behalf of the Prsident and members of the association we wish John all the very best for his time in hospital and hopefully he has a quick and complete recovery.
Secretary
---
Vale - Tom Moore (former member of the RAAC Band)
(3 July 2020)

Association member Neville Lloyd has advised the association that he was contacted by David Moore, the son of Tom Moore that his dad had passed away recently.  The message came via Frankston Band Face Book.
Neville advised Tom was a member of the RAAC Band, but cant recall when he became a member of the band.  He thinks he was one of the second National Servicemen to join the band.
No other details are known at this time.

On behalf of the President and members of the AABC Association we send our heartfelt condolences to Tom's NOK and the extended family.

RIP Tom... Your duty done
---
2020 Reunion - Townsville (Update 2) 
(22 June 2020)
Good afternoon AABCA members,
By now hopefully each of you will have learned (through one medium or another) of the necessity to postpone this year's scheduled reunion in Townsville.  I have been advised by HQ AAB that the arrangements to stage the Granting of the Freedom of Entry to the City of Townsville to the AAB have now been confirmed for the weekend of 8/9 Oct 2021. As it remains our desire to align our weekend with that event, we too will confirm that weekend as the new dates for our Reunion / AGM.
The Townsville organising committee plan for the weekend to be much the same as was planned for this year. The registration process will be much the same as in previous years, but obviously not for some time yet (early to mid 2021).
Please continue to stay safe in these challenging times. As we have seen in Victoria over the past week or so, spikes in COVID are still presenting as and when people don't heed the social distancing practices.
Take care all,
Gordon Lambie, OAM, CSM
President
AABCA Inc
---
2020 Reunion - Townsville (Update 1)
(1 June 2020)
Message from the President...
COVID-19 has necessitated community change hitherto not seen by Australia's contemporary generations. Our state and federal funding bodies have worked hard to ensure Australia has remained relatively safe while others in the world have not been so lucky. This has required our government leaders to make some difficult and often unpopular choices on how to exactly combat the virus. The community has sacrificed much also to ensure our safety. The success of these sacrifices can be seen in some recent relaxing of restrictions, but continued vigilance is required if we're to avoid a second wave of infection.
The AABCA reunion committee in Townsville and the CO of the Australian Army Band have reported to the AABCA Committee of Management that all Army ceremonial planning for the Granting of the Freedom of Entry to the Australian Army Band will be postponed until 2021. Also, there remains large scale travel concerns, and the hospitality industry remains constrained and is likely to remain so for months to come.
Given this environment the AABCA committee has taken the position that the 2020 Reunion planned for Townsville in October this year will be postponed to a date in 2021 to be advised. This will be a disappointment to some, and I gather maybe a relief to others who have been wrestling with the decision as to whether they should risk their health to make the trip to Townsville for the reunion. I can assure you that we have not taken this decision lightly, but given the Government's strong lead and not willing to place any of our members' health at risk this is the most responsible course of action.
2021's reunion that was to be held in Wagga Wagga, we'll now push this to the right 12 months. We will advise the membership at the earliest opportunity what time of the year in 2021 the Townsville Reunion will now be held. Obviously we will still be aiming to align with the ceremonial activities of the AAB and to that end I will be discussing the scheduling with HQ AAB. Our governance processes however cannot be paused, so there will be an 'on-line' AGM, more to follow on that.
For now though, continue to stay safe while enjoying the slight relaxing of the restrictions.
Gordon Lambie
President
---
Message from the President
(8 May 2020)
Just a quick welfare check, as I know you are each doing within your own smaller banding communities.  Check in on each other occasionally during these very testing times, a phone call is golden currently. 

You will see in the latest newsletter to be published shortly, a number of references to the Townsville reunion this year.  In short, we are still planning to proceed, but that decision will be reviewed in Jun / Jul, the outcome relying heavily on Government guidance and travel options. We will keep everyone apprised via this and other electronic means.

For now, take care and stay safe, GRL
Gordon Lambie
0417 886 031
---
2019 AABCA Award - Stephen Taylor
(25 Nov 2019)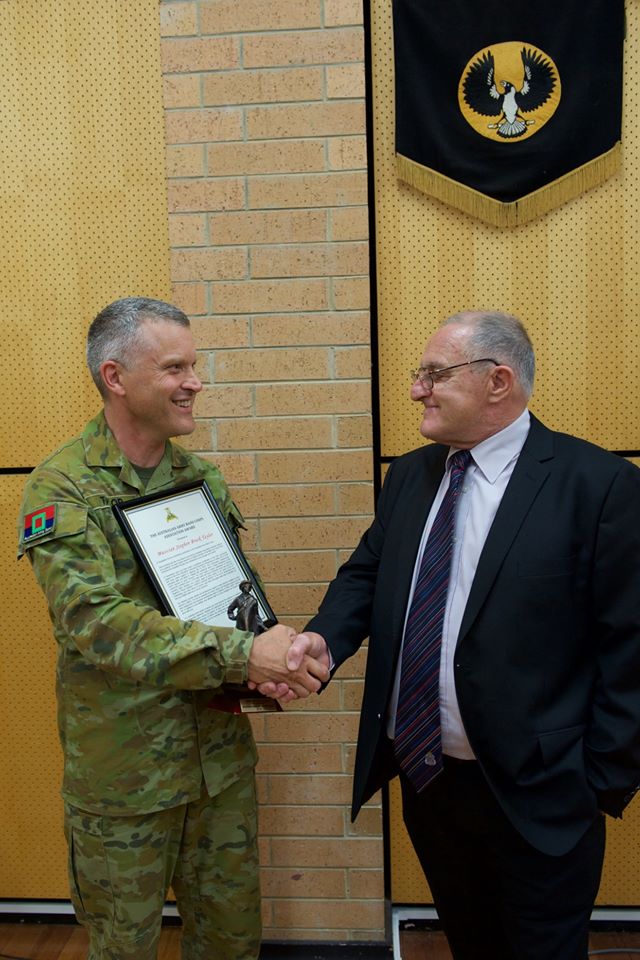 The South Australian State Representative and Vice President of the Australian Army Band Corps Association, Dave Oakley presented Musician Stephen Taylor with the Australian Army Band Corps Association Award.
The award recognises Musician Taylor's unwavering dedication to duty and his involvement in Australian Army Band support to Army Aboriginal Community Assistance Programmes held in both Yalata and Jigalong, his involvement in community outreach tours and temporary duty support to the Band of the 1st Regiment, Royal Australian Artillery's Exercise BANDIT.
---
Newsletter / Database - Personal Address Details - Reminder
(3 Apr 2020)
Association Database Manager Dave Oakley reminds the membership that despite requesting association members to confirm their current Email addresses he says he still had many emails and Newsletters returned.  For those who have changed their address, Email details or your phone/mobile number please contact  Dave to advise him of the change/s.  Dave says if you are unsure if he has all your correct details contact him as he is happy to check the details he has with you. 
Dave's Email address is: sodaveo@kern.com.au or phone: 0438 951 738.
---
Noteworthy - The Association's Newsletter
Due to the rising costs to produce the Associations Newsletter it was decided at the 2016 AGM that the association would send out the next and consequent Newsletters (Anzac & Corps Birthday editions) electronically (via Email) to our members.  We acknowledge that not everyone of our members have access to Email or doesn't even have a computer, and those members will be sent the Newsletter by mail. 
Dave Oakley, our Database Manager has forwarded a 'test' Email to those members who have provided an Email address together with their details to confirm that the members Email address is correct.  Those members without an Email address will be sent the Newsletter by mail.
 Thank you for your cooperation and understanding.
---
Sick Parade Page
The Association website's 'Sick Parade' link lists members who are sick , about to undergo surgery or who are undergoing rehabitation.  Some of these posts are well out of date, so unless the person named or the member who advised us of the members condition has changed they will be deleted.  If you're one of the members that are listed in the page or you were the one that notified us, please advise the Secretary of your updated condition or situation.  Thank you.

---
---
Changes to Details
If members change any of their personal or contact details, please notify the Secretary, Kevin Noon, of the change/s ASAP. Failure to do so will result in those members not receiving newsletters / updates. We need your details so we can contact you.
Read more...
---
---
I&KMusic
I & K Music - Selling Quality Brass and Woodwind Instruments I
Read more...