Updates and News


Message from the President

(8 May 2020)

Just a quick welfare check, as I know you are each doing within your own smaller banding communities.  Check in on each other occasionally during these very testing times, a phone call is golden currently. 

You will see in the latest newsletter to be published shortly, a number of references to the Townsville reunion this year.  In short, we are still planning to proceed, but that decision will be reviewed in Jun / Jul, the outcome relying heavily on Government guidance and travel options. We will keep everyone apprised via this and other electronic means.

For now, take care and stay safe, GRL
Gordon Lambie
0417 886 031
---
2020 AABC Association Reunion (Townsville) - Registration Form
(23 March 2020)
It's come around so quickly, Reunion 2020! The team in Townsville have planned an exceptional weekend, and when run in tandem with the Granting of the Freedom of the City of Townsville to the Australian Army Band it's certainly a weekend not to be missed. The registration form posted here details the weekend. Take it all in and then register in accordance with the directions at the bottom of the page, taking particular note of the payment and enquiry contact details. See you all there.
---
2019 AABCA Award - Stephen Taylor
(25 Nov 2019)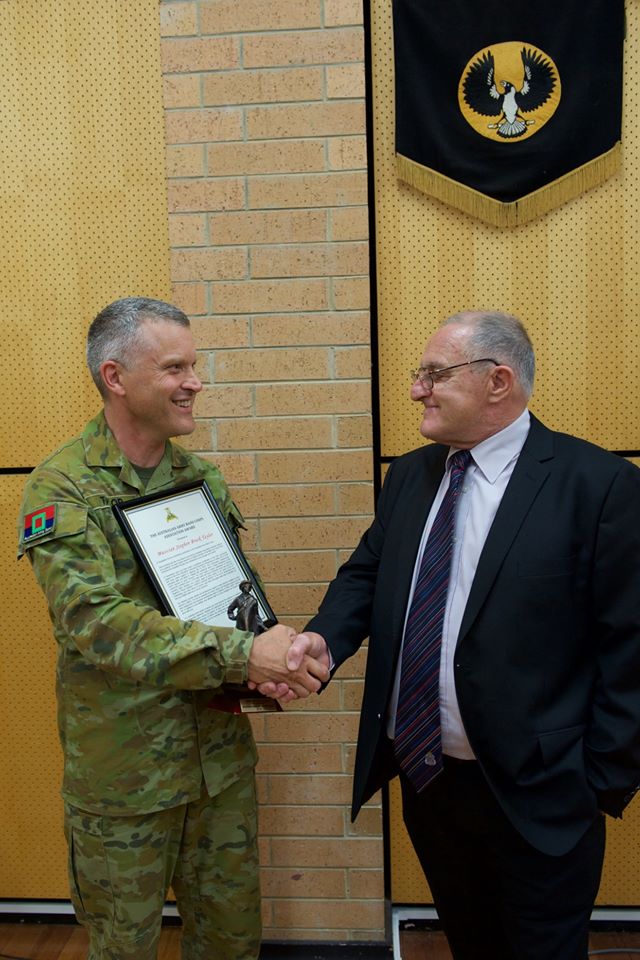 The South Australian State Representative and Vice President of the Australian Army Band Corps Association, Dave Oakley presented Musician Stephen Taylor with the Australian Army Band Corps Association Award.
The award recognises Musician Taylor's unwavering dedication to duty and his involvement in Australian Army Band support to Army Aboriginal Community Assistance Programmes held in both Yalata and Jigalong, his involvement in community outreach tours and temporary duty support to the Band of the 1st Regiment, Royal Australian Artillery's Exercise BANDIT.
---
Newsletter / Database - Personal Address Details - Reminder
(3 Apr 2020)
Association Database Manager Dave Oakley reminds the membership that despite requesting association members to confirm their current Email addresses he says he still had many emails and Newsletters returned.  For those who have changed their address, Email details or your phone/mobile number please contact  Dave to advise him of the change/s.  Dave says if you are unsure if he has all your correct details contact him as he is happy to check the details he has with you. 
Dave's Email address is: sodaveo@kern.com.au or phone: 0438 951 738.
---
Noteworthy - The Association's Newsletter
Due to the rising costs to produce the Associations Newsletter it was decided at the 2016 AGM that the association would send out the next and consequent Newsletters (Anzac & Corps Birthday editions) electronically (via Email) to our members.  We acknowledge that not everyone of our members have access to Email or doesn't even have a computer, and those members will be sent the Newsletter by mail. 
Dave Oakley, our Database Manager has forwarded a 'test' Email to those members who have provided an Email address together with their details to confirm that the members Email address is correct.  Those members without an Email address will be sent the Newsletter by mail.
 Thank you for your cooperation and understanding.
---
Sick Parade Page
The Association website's 'Sick Parade' link lists members who are sick , about to undergo surgery or who are undergoing rehabitation.  Some of these posts are well out of date, so unless the person named or the member who advised us of the members condition has changed they will be deleted.  If you're one of the members that are listed in the page or you were the one that notified us, please advise the Secretary of your updated condition or situation.  Thank you.

---
---
Changes to Details
If members change any of their personal or contact details, please notify the Secretary, Kevin Noon, of the change/s ASAP. Failure to do so will result in those members not receiving newsletters / updates. We need your details so we can contact you.
Read more...
---
---
I&KMusic
I & K Music - Selling Quality Brass and Woodwind Instruments I
Read more...