AABC Association (Bruce Pinney) Award 2020
2020 AABCA Award - Jacob Curro
On behalf of the Australian Army Band Corps Association Inc, the Head of Corps, LTCOL Dan Hiscock was able to present the Award to CPL Curro on his recent Command visit to the Australian Army Band Kapooka. The Award recipient was formally announced at the 2020 Annual General Meeting of the Association.
The award recognises CPL Curro's unwavering dedication to duty and his involvement in the Australian Army Band Kapooka's significant contribution to public affairs, recruiting, and esprit-de-corps through the production of recording media.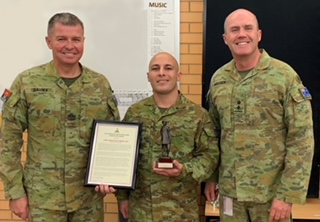 2020 AABCA Award Recipient LCPL (now CPL) Jacob Curro with LTCOL Dan Hiscock and the Regimental Sergeant Major WO1 Paul Davies.
---
2020 AUSTRALIAN ARMY BAND CORPS ASSOCIATION AWARD
Lance Corporal Jacob Jeffrey Curro
Lance Corporal Curro serves as a multi-instrumentalist, audio engineer and section leader in the Australian Army Band Kapooka (AAB-K). Lance Corporal Curro consistently excels in all of these roles, particularly as an Audio Engineer where he has made several highly valued contributions during his tenure. In 2019 he singlehandedly produced the sub-unit's first promotional recording in over 20 years and throughout 2020 has led on the audio and visual production of six outstanding recordings for social media engagement, recordings that will contribute to another promotional recording currently under development.
The 2019 album, Off the Square has significantly enhanced AAB-K's support to the Army Recruit Training Centre (ARTC) through the provision of music prior to March-Out Parades. The recorded music is played to enhance the morale and esprit de corps of all staff and recruits, and to entertain the family and friends of Army's newest soldiers prior each of the March-Out Parades.
Lance Corporal Curro has been pivotal to the successful completion of these recordings. His expertise and knowledge of the 'in-service' equipment is outstanding, as are his personal skills and abilities, all of which have enabled the completion of the projects to the level achieved. Having previously completed a Master's Degree in Audio Engineering, Lance Corporal Curro has demonstrated professionalism and dedication by upskilling his already impressive abilities to deliver a truly professional product for Army. His appreciation of the entire production process underpinned the highly valued guidance provided to the command team when planning and coordinating rehearsal and recording priorities, the end product therefore being a direct reflection of Lance Corporal Curro's professionalism and commitment.
Lance Corporal Curro's dedication across his broad ranging skill set greatly enhance the status of the Australian Army Band and his Corps at every ARTC parade, through online social media platforms, as well as the provision of promotional material for public relations and recruiting.
Lance Corporal Curro is brilliant at basics, committed to continuous improvement, and the epitome of a Junior Non-Commissioned Officer. At every opportunity this fine soldier/musician is an ambassador for the Australian Army Band Corps and his service continues in the finest traditions of all previous recipients of this award.

Gordon Lambie, OAM, CSM
President
AABC Association      
14 November 2020