News and Updates (Archives)  
Promotion - LTCOL Daniel Hiscock
(21 Nov 2016)
Association member MAJ Daniel Hiscock was promoted to LTCOL on Fri 18 Nov 2016 by MAJGEN Gus McLachlan, Head of Modernisation and Strategic Planning - Army, in preparation for his attendance on the Pre-Command Course at the end of November.  Daniel was accompianed by his wife Ceinwen at the promotion ceremony.  Daniel will take up his appointment as CO Defence Force School of Music (DFSM) in January 2017.
On behalf of the President and members of the AABC Association we congratulate Daniel on his promotion, which is well deserved.
---
Major Peter Grant, OAM
(13 Jun 2016)
Congratulations Major Peter Grant, OAM on being awarded the Medal of the Order of Australia in the Queen's Birthday Honours List 2016. 
Citation reads: Major Peter Edward GRANT, Victoria. For meritorious service as the Officer Commanding and Music Director of the Australian Army Band - Kapooka and the Australian Army Band - Melbourne, and as the Staff Officer Grade Two Reserve Training at the Defence Force School of Music.
Major Grant has displayed outstanding leadership, and professional commitment as the Officer Commanding and Music Director of the Australian Army Bands Kapooka and Melbourne. He has made a significant and enduring contribution to the advancement of music training at the Defence Force School of Music. His efforts are in keeping with the finest traditions of the Australian Army and the Australian Defence Force.
---
Repatriation of Soldiers
(11 Mar 2016)
Association member Bob Keatch writes... On 8 Jan 1966 Musician/Private Mervyn Wilson and Rifleman/Private Drummer Chris Clark, both members of The 1st Battalion Royal Australian Regiment Band were killed in action during 'Operation CRIMP' by sniper fire at close range in 'Ho Bo Woods' doing what they had been trained to do as 'Stretcher-bearer/Medics'.    This fire-fight engagement of the enemy proved the exact location of the underground headquarters and other elements of the enemy known as the 'Chu Chi Tunnels'.   Details of fire-fight.

Their bodies were buried in Malaysia soon after this tragedy.   

After many appeals and advocating the return to Australian soil of a large number of Australian soldiers buried in Malaysia during the early part of the Vietnam War the Federal Government has now negotiated and actioned this to occur on 2nd of June with firstly a Ramp Ceremony and subsequent burials at Sydney's Rookwood Cemetery for Mervyn Wilson and Canberra for Chris Clark on a date TBA. 
Major Kevin Klein, Retd - 80th Birthday Surprise
(1 Mar 2015)
WO1 John Franklin reports that during a recent visit to Bundaberg The Band of the 1st Regiment RAA paid a surprise visit to retired member MAJ Kevin Klein's place, marching up his driveway and lopping on his front lawn to the strains of 'The Minstrel Boy'.  After playing 'Happy Birthday' to Kevin, who turned 80 a few weeks ago (and to the Australian Army, who turned 114 on 1 March) Kevin was handed the baton by the Bandmaster, WO1 Simon Renfrey and he proudly conducted 'Army March'.  It was clearly evident that he was pleased and surprised to see us and he greatly enjoyed the experience.  Kevin has been ill for some time and this visit by the Band certainly lifted his spirits reports WO1 John Franklin.
The association pass on their thoughts and best wishes to Kevin.
---
Australian Army Band 46th Birthday (2 Aug 2014)
On behalf of the President and members of the AABC Association we wish all serving and ex members of the Corps a Happy 46th Birthday.  This is an appropriate time to reflect on the many achievements and milestones the Corps has been responsible for over the past 46 years.  It is also a time to pause and remember all of those members who lost their lives in conflict and those who passed away over the past year. RIP.

A toast... 'The Corps'
---
2013 AABC Association Reunion Hobart - Interim Report (22 Oct 2013)

The 2013 AABC Association Reunion was held in Hobart during the period Fri 18 Oct - Sun 20 Oct 2013. The interim report, AGM report, President's report and CO AAB report can be found on the Reunions page.
---
Australian Army Band off to Basel Tattoo

(11 Jul 2014)
Commanding Officer of Australian Army Band, LTCOL Gordon Lambie reports that permanent and reserve members from the 11 sub units of the Australian Army Band spanning the breadth of the continent have been drawn together for a return performance at the 2014 Basel Tattoo in Switzerland.  Led by MAJ Daniel Hiscock, the show will feature music skillfully re crafted by SGT's Cameron Earl and Greg Peterson for this occasion.  Precision drill, iconic Australian tunes, and the stunning vocal talents of our exciting singers are our hallmark, with maybe just a hint of that endearing Australian larrikinism thrown in!  The band departed on 12 Jul 2014 and had their first performance on Mon 14 Jul 2014.  The band returned home on Mon 28 Jul after completing 20 shows.
Performing in excess of 2000 engagements each year, our the Australian Army Band is kept extremely busy with commitments and significant tasking in support of the Australian Defence Force's ceremonial and community engagement program in Australia, particularly as we count down to the commemorative activities planned to mark the occasion of Centenary of Anzac. The release of members to partake in the Tattoo has therefore placed an additional burden on those members remaining at home to maintain the support to our regular customers and that effort is acknowledged in this forum.
---
Seeking Information - Ivan Luby
Could any former members of RMC Band who worked with the late Ivan Luby please help with the request below:
My name is Stephen Luby, son of Corporal Ivan Luby (ret) (Dec). I  am writing in reference to some information and in regards to some photos or memorabilia that people may have of my father whilst he served at Duntroon as a bandsman.  I believe that my late father may be the longest serving non commisioned officer that has served as a bandsman at Duntroon from 1960-1982.   My late father has received postumously the ADM, the DFSM with two clasps, an additional clasp to his National Medal that he was awarded in 1977 and the anniversary of National Service Medal after when he passed away on 11/11/2000.  There is some information on dad at the golf club at  Duntroon.  Back in the 1970s dad won numerous what was called the  "Nimmo  Pot"  championships as a golfer.    If you have any questions regarding this then you can  please contact me on this e-mail  (stephenluby@hotmail.com) or alternatively on 0428 779 594.
Yours Sincerely
Stephen Luby
---
Memorial Questionnaire.
To speed things up members may return their completed Memorial questionnaire to Neville Lloyd via e-mail. Address is pamnev@dcsi.net.au   Look forward to your returns.

For those who haven't seen the Army Band Memorial concepts please follow the link below to view them and also to the concepts questionaire. (Both PDF files)

Army Band Memorial Concepts

Army Band Memorial Questionaire

Army Band Memorial Questionaire (MS Word version)
---
MAJGEN A.L. Morrison DSO MBE

Alby Morrison passed away last night, Thursday 8 May, aged 80.  He was a great supporter of RMC band, attending concerts up until recently.  As COMDT RMC-A he opened the Colin Fischer Band Centre in 1979. His funeral is a private affair, with a memorial service at the ANZAC Memorial Chapel of St Paul, Duntroon at 1500hrs Wed 14 May 08.
---
ABC1 - Sunday 20th April 9.25pm - The story of Arthur Gullidge and the 2/22nd Battalion Band
John Cleary presents a documentary on the Brunswick Salvation Army Band. Cleary tells the little known story of music maestro Arthur Gullidge and his Brunswick band that went on to become the 2/22nd Battalion Band. Keenly sought for the war efforts, the men doubled as medical aids and were sent to Rabaul. Sadly, all but one of the men perished when the Japanese attacked. Survivor Fred Kollmorgen reflects on the men's contribution.
For those who missed this program it will be shown again.
Compass - A Story Of The Salvos 6:00pm Friday, 25 Apr 2008  ABC2
The transcript from the program can be found at http://www.abc.net.au/compass/s2223078.htm
---
Queen's Birthday Honours List - Laurie Young, OAM

(9 Jun 2014)
The AABC Association congratulates Laurie Young OAM, association member and past Officer Commanding AABA and AABB  on his award of the Order of Australia Medal (OAM) (general division) in the 2014 Queen's Birthday Honours List.  The citation reads:
Major Laurence James Young (Retd), Bracken Ridge Qld.  For service to the community through the military and civilian band movements. 
---
AABC Association Award - Student of Merit

(8 Dec 2013)
The Defence Force School of Music has advised that the winner of the 2013 AABC Association Student of Merit Award, from the recently completed DFSM Group Leader Course is CPL Andrea Clifford of AAB-S.  The Association congratulates Andrea on her award.
---
AABC 45th Birthday - Message From LTCOL Gordon Lambie
45 years on, yet another review, but here we are, still punching out crotchets for Army.  As you would all now be aware, our AABC Bands sit within Army Headquarters, under command Director General Army Operations, Brigadier Graeme Finney OAM.  On this our 45th birthday, I thought it fitting to theme my message to all, and what better way to start than quoting an extract from Brigadier Finney's opening address to last week's AABC Corps Conference:
"My time as COMDT at ARTC, while certainly not being my first exposure to our bands confirmed in no uncertain terms the value of a band within a community, be it military or otherwise.  In both a strategic and immediate sense, the pathways forged by our bands into a community assist commanders in achieving an effect not generally achievable by any other single asset.   Whether in current conflict or preparing for the next, winning the hearts and minds of a community, and revitalising the souls of our soldiers are two of the greatest challenges facing commanders; our bands lead the way in this regard.  In you, Army has a collective ambassador, both domestically and abroad.  You are regularly providing individuals to the significant commemorative events around the world, and more recently representing en masse at Tattoos in Basel Tonga, and Edinburgh.  We are hosting an international Band in September this year in a joint effort with China.  Performing in Canberra and Sydney this concert series will form the main effort in a broader ADF / PLA military and cultural exchange, and the CO has just returned from a reconnaissance of Basel in preparations for possible attendance at that event next year.  Throw into that mix the band support provided to PAMS and Gallipoli last year and you'll agree your representational role over the past year or so has been significant.  In reinvigorating the support to deployed forces, ACAAP, and major exercises domestically, and by contributing to initiatives like the ADF Theatre project, you soon start to realise the requirement Army has of you."
As we enter our 46th year, it is with some sense of loss that we wave farewell to our 45th year, a year that will be the last for the Corps in its current shape, a shape that has served Army well since Vietnam and beyond.  As keen as this sense of loss may be however, it is with a renewed sense of anticipation that we now head into our 46th year, a new shape bursting with reinvigorated capabilities and opportunities.  The contemporary model and all of the new recent shiney equipment are obvious changes, but the singular most exciting aspect I'm noticing as I get around to the bands is the core of very talented and motivated young folk that are present in the bands; take a moment right now to reflect on those you've come into contact with recently and you'll know of whom I speak!   These younger gen folk, although aware of the bands as they were and respect what once was, are keen to meet today's Army and industry expectations, it's their time.  I'm not suggesting the rest of us are dinosaurs, far from it.  It pleased me no end at last week's AABC conference to note the very positive manner with which all participants approached the week and the future direction of the AAB, I concongratulate them all sincerely for getting over the hump, not an easy task!
Like many of you I expect, the Headquarters will be taking an early mark today to join with our local Band, RMC Band in our case, in celebrating our birthday.  Enjoy the day with friends, noting the significance of the day to the AABC.  Occasions such as these highlight our esprit de corps, an intangible asset that has assisted us greatly in meeting recent challenges and setting the conditions for a bright future.
Happy Birthday AABC.
Gordon Lambie, CSM
Lieutenant Colonel
Commanding Officer
Australian Army Band
---
I & K Music - Quality Brass and Woodwind Instruments

(25 Jul 2013)
If any of the members are interested in purchasing a new instrument for themselves, a family member or student, you may be interested in a company in Melbourne that produce hand crafted instruments that represent quality and unprecedented value for money.  The company is called I & K Music. I was recently advised by association members who had purchased an instrument/s from the company that they were extremely pleased with their purchase and highly recommend I & K Music to you.  The I & K Music website has details of each instrument with prices.  When you view a particular instrument on the website it lists a sale price also, which in most cases is half the advertised price.  I'm sure you will be pleasantly surprised! The website address is: www.iandkmusic.com.au 
---
Commemoration Services (Brisbane)

(21 Jul 2013)
Australian Army Band Corps Association members who are veteranms of the following campaign are invited to attend the Commemoration of the 47th Anniversary of the Indonesian Confrontation with Malaysia and the Commemoration of the 53rd Anniversary of the Malayan Emergency to be held at 1030h, Sat 31 August 2013, at the RAR Memoral Walk, Gallipoli Barracks, Enoggera.  Drerss: Coat, tie and medals.  RSVP: 25 Aug 2013 to kody@oneseniors.com.au 
---
Mastering the Foundations of Music launched

(5 Jul 2013)
The Graham Lloyd Music Education Mastering the Foundations of Music package meets all your students' music theory needs in 20 easy to watch video lessons that are delivered online!
The easiest, and most thorough, music theory training method around. There are no other music theory courses as unique as the Graham Lloyd Music Mastering the Foundations of Music package ANYWHERE! Getting started right away is so easy...  Click now: http://www.grahamlloydmusiceducation.com/  
---
Defence Force School of Music (DFSM) Graduation Day (5 Jul 2013)
The DFSM Graduation Day was held at the school on Wed 19 Jun 2013 where a number af awards were presented, one of which was the Senior Instructor's Award, which is proudly sponsored by the AABC Association. The recipient of the award was Muscian Nathan Moore from the Australian Army Band Melbourne.  Nathan joined the Australian Army later in life and is an outstanding musician who brings with him a breadth of not only performing experience, but also life skills and has a bright future in the Corps. Congratulations Nathan.
---
Balcombe Barracks Commemoration - Letter of Appreciation (22 May 2013)
A letter of appreciation from Dr Michae Kennedy (CEO Mornington Pennisula Shire) has been received regarding the recent Balcombe Barracks Commemoration weekend and passed on the Council's appreciation for all the pre-work on the interpretive boards and plaques required of those organisations involved in the lead up to the event. He says the feedback he's received from the weekend has been overwhelming.  The planning and delivery of such a large event is never an easy task, but everyone involved deserves congratulations on a job well done. He also wished the Apprentice Association all the very best for the future.
---
AABK History Exhibition (14 May 2013)
On behalf of the AABC Association I wish to congratulate the Museum of the Riverina, Historical Council Chambers site, Wagga Wagga for their excellent exhibition of 'The History of the AABK, Instrumental in Defence', the display running from Fri 1 Mar and closed on Sun 5 May 2013. Thank you to all those people who helped make this display possible.  I'm advised by the curator Jeni Bradley-Cahalan that the exhibition was well attended during its duration and that lots of interest was shown by the people of Wagga Wagga, school children and visitors to the region. I visited the museum last month and was impressed by the extensive exhibition of memorabilia, historical photographs and stories, which covered the history of the Australian Army Band Kapooka (AABK), formally known as the Kapooka Band, Royal Australian Engineers Band, Royal Australian Signals Band and the 1st Recruit Traning Battalion Band. Congratulations!
---
Balcombe Barracks Commemoration (3 - 5 May) Report (7 May 2013)
An extremely sucessful Balcombe Commemoration reunion was held on Fri 3 May - Sun 5 May 2013 with a large attendance of ex apprentices and members who served at Balcombe during the forties up to the early eighties of the last century.  Congratulations must go out to the Australian Army Apprentice School Association (AAAA) working committee, other involved Corps associations, the Mornington Council and the Balcombe Grammar School for their hard work and valuable support over the past 12 months to arrange and conduct such an outstanding historical event. Nearly five hundred ex-apprentices and thier partners attended the Meet and Greet held at the Mornington Racing Club on the Friday, catching up and renewing friendships with former colleagues from the Apprentice School, School of Signals, School of Survey and the Army School of Music.
On Saturday the Balcombe Grammar School hosted a ceremony of re-dedication of the old Balcombe Gates and plaques. This also included the dedication of of new Plaques, Plinths and Balcombe History Story Boards (6). The plaques and Story Boards have now been relocated to the old site of the Apprentice School Parade Ground along with plaques and a special Story Board relating to the US 1st Marine Division, who were located at Balcombe on R&R during the mid forties.  A Reunion Dinner was held on Saturday evening where those attending were seated on their respective 'Class' tables.
Early Sunday morning a Commemoration Service was held in the beautifully kept Mornington War Memoral park. Prior to the service approximately 400 plus ex-apprentices marched up through the City of Mornington finishing at the park. Under the direction of Major Glen Rogers the Australian Army Band Melbourne supported the march and the Commemoration Service. Following the service morning tea was served at the Dava Hotel, a favorite afternoon tea and supper venue for the young apprentices under training and for those undergoing courses at Balcombe.
If you are an ex Apprentice or someone who may have served at Balcombe on staff or trained there and are interested in the long and distinquised history of Balcombe Barracks, please take the time to visit the site. I recommend a visit to the Balcombe Gates site to you!
Photographs of the weekend's events will be placed on the site as they come to hand. A great weekend!
Secretary
---
Federation Star Presentations (11 Dec 2012)
LTCOL Gordon Lambie, (DMusic-A) reported from Canberra that on Mon 10 Dec 2012 two recipients of the AABC, WO1 Geoff Carter (ex AAB-D) and WO2 Dave Walker (ex AAB-N) were presented their 40 and 50 year Federation Stars respectively by the Chief of Army in his chambers at Russel Offices during the sitting of this month's CASAC meeting. Gordon says both recipients received their awards in a simple, but poignant ceremony in the presence of their wives and most of the Australian Army's Generals. On behalf of the AABC Association we congratulate both Geoff and Dave on this significant achievment and for their dedication to the AABC.
---
International Military Music Society (IMMS) April 2011 Newsbrief (2011)
IMMS Newsbrief

---
CASAC and the future of AABC Bands (2011)
The AABC Honorary Colonel and DMUS-A presented the paper, 'Remediation of Establishment Hollowness, AABC', to CASAC on Thursday 7 April 2011. After consideration CASAC agreed to adopt all recommendations contained within the paper. For more information.... 
---
Simon Renfrey, OAM
(2011)
Congratulations to WO1 Simon Renfrey, OAM, Band Sergeant Major of RMC Band awarded a Medal of the Order of Australia (OAM) in the 2011 Australia Day Honours List. Simon's outstanding contribution over his 28 year career, but in particular more recently in three postings as a Warrant Officer, has quite rightly been recognised by the Nation's Government. He was an inspirational and innovative Bandmaster at the Australian Defence Force Academy, and similarly delivered his unfailing 'can do' message to the troops of the Australian Army Band and the Australian Army Pipes and Drums in Perth prior to arriving in Canberra two years ago. Since his posting to RMC Band he has provided the finest example of an Australian Army Warrant Officer to his subordinates, peers, superiors and civilian counterparts alike.


---
Dave Newdick Jnr
(2011)
Those who know Dave would be aware he suffered some health problems last year. Mark Underwood recently passed on the following information about Dave: To those that know him, please keep Dave Newdick in your thoughts and prayers. Hes not having a good run. Dave is recovering from surgery - spleen removed after a bad stack on his bike today. According to Kris (his lovely wife) he looks like he has been hit by a mack truck! He will be spending 4 - 5 days in Maroondah Hospital. Cheers. Mark
A recent update: Hi everyone, spoke to Dave today. He is still in hospital but feeling a lot better. He really appreciates everyones support and sends a big thanks to everyone. Might be a little wait to get the horn back on his face, but we all know he will be back in brilliant form before we know it. His facebook page is back up and running so drop him a line. Cheers
Mark

Message From Dave Newdick...
Thanks to all loved friends for your support and best wishes. Hopefully no more hospital stays for many years. I'ver just had my cheekbone/ eyesocket rebroken and plated in the hope of regaining nerve feeling to left side of face and chops....
---
Neil Anstey
(2011)
Neil is a former Apprentice Musician who also served in the Army Band in Sydney. Neil is currently deployed in the MFO in the Sinai and is featured in the following link.

http://www.defence.gov.au/our_people/nsw/20110117/index.htm
---
Eric Andersen - Update

(2011)



The news I have is that the Andersen clan moved into the new Clonbinane "castle" on 24 May 2011. 
There are still a number of things to be completed before we actually get the Certificate of Occupancy, with various workmen still making random appearances on site.   We have had a problem with the Project Manager and the Builder, who have an on-going dispute (not directly connected to our place), and who seem to be unable to communicate with one another.  There have been delays, double-handling, confusion over who was doing what, and lots of general obfuscation, all of which has been far more traumatic than the aftermath of the fire itself!!  It would be a whole lot better if they could all be got together at once to co-ordinate their activities, but I'm sure the necessary work will eventually come to an end.   I was fortunate to spend the past three weeks on leave, but am just as pleased to be back at work, where climbing ladders, digging ditches or clambering around in ceilings aren't part of the job description....
The place is certainly roomier than our previous "granny flat" in Broadford.  We had problems there when the owner of that property (a golfing friend) sold the house to a young family with a whole lot of kids and animals.  Our younger son's girlfriend's dog ate one of the new owner's cats (well, had a good nibble of it, with a vet's bill for the girlfriend of about $700), and shortly after that there were mysterious things happening to the power and TV reception, so we took the hint and moved out into the new house.
Cheryle, the boys and I would like to gratefully thank the many readers of the News Updates who have lent their support to us, and to the Lloyd family too, following Black Saturday.    The AABC family has always been a tight knit group, and we have seen further evidence of this over the past 17 months or so.   
The house is on the same site, at 224 Clonbinane Road, Clonbinane, and is about 5 minutes from the Clonbinane exit on the Hume Freeway (or 35 minutes from the Western Ring Road, to Melbourne's north).   If you are passing by,  come in for a cuppa (or something stronger, depending on the position of the yard-arm).  You might want to call (03) 5787 to see if we are home first.  With any luck Telstra will have organised the phone service for us by the time any of you get the chance to come out here (after all, I've spent about 5 hours on the phone to them already!  But THAT'S another story.)
Eric Andersen


---
Baton Presentation
(2011)

The baton used by Albert Baile, Conductor of the 1st Australian Armoured Division Band A.I.F. 1942 - 1945, will be presented to the Defence Force School of Music during the @Home concert, 11am,21 May 2010. The Band was involved in the 1945 Declaration of Peace at Moratai and Colin Lelean has forward some details about the Band's involvement:

'At approximately 9.00am on the morning of the ceremony for the signing of the 1945 Declaration of Peace at Moratai, it was realised that the 1st Armoured Division Band did not have an arrangement of the Dutch national anthem. The Band Sergeant gathered a small group of the Dutch to sing for him their anthem. From their vocal rendition a version was quickly transcribed in time for the service, and to the delight of the Dutch present was a rendition described as the best they had ever heard. Such was the talent within the Band. '   

The following are, with consent, the contact details of whom I believe is the last member if the 1st Armoured Division Band: Mr Harold (nicknamed Bus) Wilson of 5 Liguori court Mayfield NSW 2304,

02 4967 1378

begin_of_the_skype_highlighting

 
02 4967 1378

 FREE 

 

end_of_the_skype_highlighting



I believe that Harold still plays tenor horn with the Salvation Army Band, and I admire him as both a player and true friend. The picture of him that ended up in Red Robbies Rousers I took whilst in the car park (1999) just preceding band practice in Mayfield.  His reply to my enquiry as to his health was " If i were a horse they would have shot me years ago", at a time when he was still a contract builder, then aged 80+. A modest but truly remarkable fellow. Please feel welcome to give him a call. As we meet again on the 21st, with thanks and many kind regards. Colin Lelean.

---
AABC Honorary Colonel
(2011)
'ORDER OF THE DAY'
Good afternoon all - it is with great delight that I let you know that the office of CA has advised me this morning that CA has signed the letter approving the appointment of Brigadier Mark Bornholt, AM, as Honorary Colonel, AABC.  The appointment is effective from 1 March 2010 to 1 March 2014.   BRIG Bornholt brings to the appointment a wealth of experience, a genuine passion for the work of our Corps, a love of music and a particularly limited vocal talent!!   His close professional and personal relationships with the senior leadership group of Army will be of invaluable assistance to us particularly as we shape the Corps for the future and I know he will advocate on our behalf with unabounded energy and zeal.
I have attached a photograph and biography together with a statement from BRIG Bornholt which outlines his appointment priorities.   I ask that all units conduct a CO's Hour within the next fortnight to advise personnel of the appointment and to brief members on the significance and history of both the role of the Honorary Colonel and the new incumbent.  This office will soon plan a unit visits schedule for BRIG Bornholt so please advise dates of suitable military and civil engagements when he might best take the opportunity to meet and talk with unit members.
Finally I am delighted to advise that he, and his wife Karen, will attend the Farewell Dinner for BRIG Hearn on 30 Mar.   This presents an excellent initial opportunity for all officers to make themselves known to him and to advance their career prospects by offering singing lessons aimed at enhancing repertoire beyond the currently limited 'The Gambler'.
Cheers,    
Ian McLean
I.J. McLean, AM,CSC
Lieutenant Colonel
Director of Music - Army
Honorary Colonel Introduction and Biography (PDF)
---
Statement from Lieutenant Colonel Ian J McLean Director of Music – Army
(22 Oct 2009).

Under a proposal for the Remediation of Establishment Hollowness the AABC is earmarked to lose 90 establishment positions. There is currently no implementation date but it is expected to be between 2014 and 2016. I am tasked to write an initial implementation plan by May 2010 with a firm proposal for Chief of Army by October 2010. The paper issued by DPLANS does suggest that AAB-Brisbane and AAB-Sydney revert to ARES bands similar to Perth, Adelaide etc and that Kapooka becomes a Pipes and Drums band but this is NOT set in concrete. I have the option to suggest alternative placement of the 142 establishment positions should I be able to come up with a better plan. That would be part of my May 2010 paper. I hope that provides some clarification.   All bands will be operating as in current form for the time being, any change will be phased in over a long period of time.


---
AABC Association Memorial Dedication
(Nov 2008)
Dedicated to commemorate Australian Army soldier musicians who served in war and who made the supreme sacrifice in the defence of Australia. Unveiled by Major General B.A. Power AM. CSC. - 28 Nov 2008

This was conducted on 28 Nov with the memorial dedication followed by a concert held at the Defence Force School of Music. A report was published in the Christmas edition of Noteworthy News and photos have now been added to the website. 
Images can now be seen on the AABC Memorial Page

First I would like to thank all members who have made a donation and also purchased raffle tickets. We raised just over $32.000.00 which included a grant of $4,000.00 from DVA and a very special thank you to Norm Austin who donated $10,000.00 and to others who also made generous donations. As all work had to go to civilian contractors the cost of The Memorial has blown out from $30,000.00 to over $36.000.00.  We would not have been able to have the Memorial built without the help of Norm and others.  Thank you.

Jim Harper
(Scrooge McShad)
---
Brave & True: From Blue to Khaki - the Band of the 2/22nd Battalio

n
- By Lindsay C. Cox

In 1942 the biggest single loss of life suffered by Australia happened in one single wartime act. The number of lives lost was two-and-a-half times the total number of Australian soldiers killed in Vietnam. Amongst those who perished were 22 Salvation Army Bandsmen enlisted in the AIF under renowned Bandmaster Arthur Gullidge to form the 2/22nd Battalion Band. Just one bandsman survived the invasion of Rabaul.
This book can be ordered online at the Salvation Army Online Supplies Shop:
http://www.salvationarmy.com.au/supplies/product.asp?pID=99&cID=1%20
---
AAB-Sydney

's

Gold Aria Award for 'Salute to the Aussie Digger

'
A musical tribute has today earned the Australian Army its first ever Gold ARIA Award.Presented during a ceremony at Victoria Barracks in Sydney, the award from the Australian Record Industry Association (ARIA) recognised the national distribution of over 38,000 copies of the compact disc, Salute to the Aussie Digger.

The CD project was conceived in 2003 by Australian Army Band - Sydney member, Warrant Officer Rod Mason.
"This is a wonderful achievement for the Australian Army Band Corp and is recognition of the sort of activities that all Army bands are involved in," Warrant Officer

M

ason said. Following extensive research, script writing and music composition, the album was recorded over several months in 2004 by the Australian Army Band - Sydney, under the baton of MajorGeoff Grey. "With all of the elements of the project being completed 'in-house' from scripting and recording to sound engineering and graphic design, the CD is a very special achievement by members of the Australian Army Band Corps," MAJ Grey said.

The album was launched at the Sydney Town Hall in November 2004 by

Brigadier I.J.C. Hearn AO. 

The recording features a wide variety of evocative music covering periods of conflict over the past 130 years and includes numerous compositions by members of the band. In addition to Jack Thompson's iconic voice, the recording also has contributions by General Peter Cosgrove (Retired).  The project had the honour of being under the patronage of then Governor General Major General Michael Jeffery and also features original sound effects sourced from the Australian War Memorial.

Since its release the CD has been included in national educational literature available in all Government secondary schools, issued to recruits upon march-out from the Army Recruit Training Centre and raised significant funds and awareness for Legacy.

Well done Rod and the Band!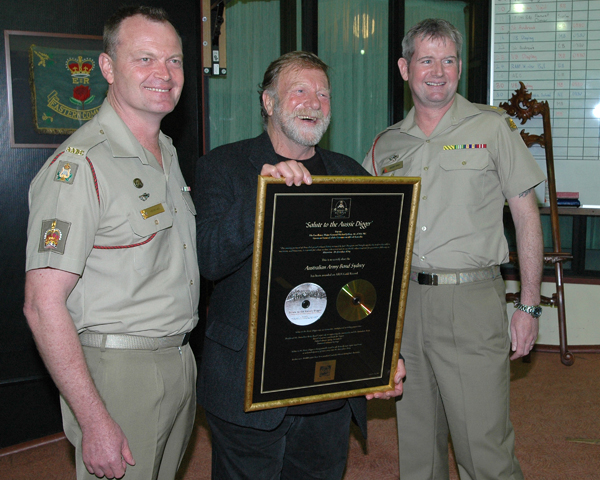 (L to R) Warrant Officer Rod Mason, actor Jack Thompson and
Major Geoff Grey posed with the first Gold Aria Award ever presented
to the Army Band.
---
AABC 40th Anniversary Messages
From Honorary Colonel AABC Brigadier Ian Hearn AO

To all members of the Australian Army Band Corps, ARA and ARES,  I extend my heartiest congratulations and best wishes on the occasion of the 40th birthday of the Corps.  
The bands of the AABC are extremely high-profile, and fulfil a most important role in the Army.  This  encompasses not only the more traditional functions relating to 'ceremonial' and 'entertainment', but also includes 'assisting in developing the positive public image of the Army'.  That the members of the Corps are able to do this is directly attributable to your sense of duty and your very high standard of musical ability.  
At this time of year, I also wish to send best wishes to those past members of the Corps who will attend the  AABC Association re-union on the Sunshine Coast this weekend.    It is these past members who laid the foundation for what exists today.  
I look forward to joining the Canberra-based celebrations of the AABC, which will be attended by both present and past members of the Corps.
Best wishes to you all
 
Ian Hearn AO
Brigadier
Honorary Colonel AABC

From Patron of AABC Association Brigadier J.J. Shelton DSO, MC

The last 40 years has seen some tremendous changes in the Band Corps. Probably the biggest change was the introduction of female soldier musicians. More recently the opportunity to serve in overseas deployments has added to the Corps' credits. Over the past 40 years the Corps has consistently maintained a very high standard on parade. Off parade, the range of music encompassed by the Corps has expanded to meet society's changing musical tastes. Congratulations to all Corps members past and present.

Regards
Jim Shelton
---
Seeking Information
Can anybody help with identifying the band in the attached photo? The back is inscribed with .our band coming over on the boat.. Are you able to shed some light? Please contact Kevin Noon if you can help.
(Click on image to enlarge)
---
Seeking Information
I am a member of the RAAOC Association (QLD), and have been contacted today by the secretary of the Association, a lady called Dawn Durrand. The Assn is trying to assist his widow by getting some sort of pension ( through DVA I assume.)  they need to find someone who served with this fellow in band days. His name was Richard ( Dick or Hank ) Hankinson,  - he was Ordnance in 1975, so his band days would have been earlier than that.
---

Can you help? - 32nd Class Apprentices
Hi all,
Michael Gojan writes....I was wondering if anyone can assist me, I am trying to organise an 11 platoon 32nd Class reunion and cannot locate the following ex band members. I was hoping that you might have contact details for the following people:
319702 Ian Leslie McNiece
174551 Matthew Terrence Ryan
225671 Vernon Mark Thelning
225672 Geoffrey Donald Wilson
Your assistance in this matter would be appreciated.
Kind regards,
Michael Gojan
MICHAEL'S MUSIC
        07 5449 1362              
        0417 650 596       
www.michaelsmusic.id.au
---

Reunion - 24th Class Intake of Apprentices
The 24 intake of Army Apprentices are holding a reunion in 2007 and we have lost contact with our bandsmen:
1. 1202431  Frank Bond
2. 45076 I    Van Davis
3. 56053      P Andrews
4. 373592    P. F. Butterfield
5. 62090      R. F. Gourlay
6. 219601    Marshall
7. 56052      R. B. Partyka
8. 1202790  G. I. Trudgeon
If anyone can help with their location it would be greatly appreciated.
Wayne Voss  
"Voss, Wayne" WayneV@PHM.GOV.AU
---
Help Required (12 Nov 05)
Major Graham Lloyd received a letter recently together with a photo requesting information on a 'Ralf Williamson', who appears in the picture.  If you have any information that might help please contact the DFSM and relay your information.  Copy of the original letter below:

Hi Sir    ( click here to see photo )
My grandfather (Ralph Williamson centre back row) was in the AIF and served in PNG behind enemy lines. I've seen other photos of him at Puckapunyal so this one may be in the same area. We think it was taken in around 1942. That's about all I know unfortantely. Any other info would be much appreciated as none of his family know much about his time in the army.
Thank you very much.
Lorelei I. Williamson
Musician
Defence Force School of Music
Simpson Barracks MACLEOD VIC 3085
---

Balcombe Barracks Commemoration - Reunion Dinner (3 Apr 13)
The Balcombe Barracks Commemoration (3 May through to 5 May 2013) is fast approaching and with reports from the organising committee they indicate that there is quite a lot of interest in the weekend and expect a large attendance.  I have received a number of enquiries about having a Corps table at the Reunion Dinner being held on the Saturday evening at the Morning Racing Club commencing at 5.30pm for 6.30pm.  Without numbers from the association, serving Corps members or from any ex bandies that might be attending, its difficult to organise a table/s. To that end if you are attending could you please advice me, the Secretary on 0414 313 566  if you are going to the dinner on Saturday and I'll do my best to arrange a table/s for us. I hope to see you there to celebrate this significant occasioin.
---
Attention Paul McDonald (former member of RAAC Band) (1 Apr 13)
Paul McDonald was recently enquiring about the whereabouts of John O'Carrol who resides in Tasmania. Request Paul contact the Secretary regarding John O'Carol's address. Ph: 0414 313 566.
---

Federation Star Award - WO2 Fank Daly (30 Mar 13)
The AABC Association congratulates WO2 Frank Daly on his recent award of the Federation Star for forty years service to the Australian Amy. The Chief of Army presented the award.
---
Sons of ANZAC's Vietnam Memorial Tour - 2015 (28 Mar 13)
In 2015 the centennial of the landing at Anzac Cove will be commemorated and coincidentally a significant anniversary for Vietnam Veterans, being 50 years since the deployment of the first battle group. That deployment went on to last 10 years.  To commemorate this fact 'Mat McLaughlan Battle Field Tours' and Gary McDonald (Retd) a prolific author and historian on Vietnam will be tour leaders and lecturers at the sites of Australia's major engagements. Further details of this tour will appear in the next issue of 'Noteworthy', the assoiciation's newsletter. The website address for information is: http://battlefields.com.au/index.php/tours/69. The tour can be found there with contact information.
---
The Australian Army Band Kapooka (AAB-K) Exhibition (26 Mar 2013)
Ms Jenni Bradley-Cahalan, curator from the museum of the Riverina, Wagga Wagga has advisede that the exhibition called 'Instrumental in Defence' - The Australian Army Band Kapooka (AABK) opened on Fri 1 Mar 2013 at the Museum of the Riverina, Historic Council Chambers site, Cnr of Baylis & Morrow Streets. The exhibition mainly focuses on the current musicians at AABK, whilst briefly introducing the role of the AABK within the Army and the community.  Jenni says part of the exhibition includes memories from the past of former or retired AABK members, including those who served in the Kapooka Band, Royal Australian Engineers (RAE) Band and the 1st Recruit Training Battalion (1 RTB) Band througout the fifties, sixties and seventies. Jenni says whatever has been submitted she will be handwritten into a blank diary/bounded book to allow the audience to read through. If you have any questions regarding the exhibition phone Jenni on: 02 6926 9655.
Opening Times:
Tue to Sat (10am - 5pm). Sun (12noon - 4pm).
Closed Mondays...
Note: Free Entry...
Contact:
Jenni Bradley-Cahalan
Museum Project Officer (Temporay)
Email: Bradley-Cahalan.Jenni@wagga.nsw.gov.au
Phone: 02 6926 9655
Balcombe Barracks Commemoration 2013 Update (26 Mar 2013)
The Australian Army Apprentices' Association (AAAA) is hosting a significant event in Mornington, Victoria over the weekend of Friday 3 May through to Sunday 5 May 2013. The weekend is open to all former members of units and civilian personnel that served at Balcombe Barracks, which includes Army Apprentices, Signals Corps, Survey Corps, Army School of Music, US Marines, WRAAC and any staff. The weekend will feature:
•Friday 3 May - 'Meet and Greet' - Mornington Racing Club (2.00pm - 7.00pm).
•Saturday 4 May - Balcombe Barracks Commemoration - A formal presentation, including unveiling of plaques and storyboards will be held at the old camp site telling the history of the Balcombe area and a re-dedication of the Balcombe Gates (2.00pm approx).
•Saturday 4 May - Reunion Dinner - Mornington Racing Club (5.30pm for 6.30pm)
•Sunday 5 May  - Remembrance Service - Mornington War Memorial. Commencing at 0900h with a short street march to the Memorial followed by morning tea at the Dava Hotel.
The full programme and a registration form are available for download from the AAAA website, www.austarmyapprentice.org  under "what's new".
Note: Already many people have indicated that they will be attending the weekend and that accommodation in and around Mornington area is fast filling up. So to avoid disappointment anyone that is considering attending this historic event in May should look to book your accommodation now.
---

Federation Star Presentations (11 Dec 2012)
LTCOL Gordon Lambie, (DMusic-A) reported from Canberra that on Mon 10 Dec 2012 two recipients of the AABC, WO1 Geoff Carter (ex AAB-D) and WO2 Dave Walker (ex AAB-N) were presented their 40 and 50 year Federation Stars respectively by the Chief of Army in his chambers at Russel Offices during the sitting of this month's CASAC meeting. Gordon says both recipients received their awards in a simple, but poignant ceremony in the presence of their wives and most of the Australian Army's Generals. On behalf of the AABC Association we congratulate both Geoff and Dave on this significant achievment and for their dedication to the AABC.